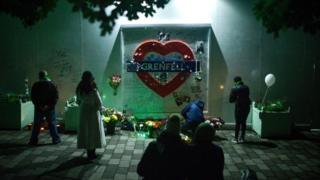 Survivors of the Grenfell Tower fire and friends and family of those who died are attending events to mark the two-year anniversary of the tragedy.
Seventy-two people were killed in the blaze in North Kensington, west London, on 14 June 2017.
The Archbishop of York acknowledged the "agonising memories" of the fire in a message read out at a memorial service.
More than 200 high-rise buildings in England are still covered with cladding similar to that used on Grenfell.
In his message, Dr John Sentamu, Archbishop of York, said anger over the fire had "turned into action for good" but warned there were "uncomfortable truths still to be acknowledged".
Dr Graham Tomlin, Bishop of Kensington, told the congregation the fire was a "national shame".
"Grenfell happened because we failed to love our neighbours," he said.
Earlier he told the Today programme there was "ongoing frustration" in the local area over the way Grenfell residents had been treated.
Karim Mussilhy, whose uncle died in the fire, said it was important for all those affected to stand together and "make sure the general public understand that the issues of Grenfell are still happening today".
Seventeen families who were affected by the fire have yet to be found permanent accommodation, with one of those still living in a hotel and two others in serviced apartments.
Nearly 8,000 people have also been screened for signs of trauma by the Grenfell Health and Wellbeing Service, with 398 children among those who have entered treatment.
Landmarks across the capital including 10 Downing Street and Kensington Palace were lit green overnight to mark the anniversary.
The main memorial service is being held at St Helen's Church, close to the tower.
The walls and pews of the building have been decorated with green ribbons, while attendees have been given green sashes to wear around their necks.
Communities Secretary James Brokenshire and fire minister Nick Hurd are attending the service which also featured the singing of Britain's Got Talent semi-finalist and Grenfell survivor Leanne Mya.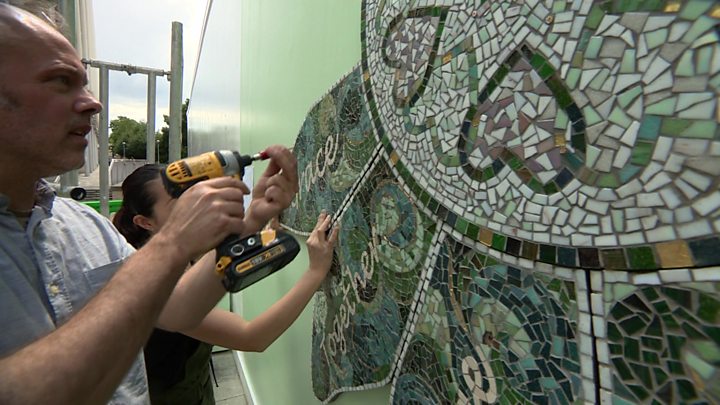 Other events taking place during the day include prayer vigils, a silent walk, a private wreath-laying ceremony and a remembrance service featuring 72 bell tolls.
Yvette Williams, a co-ordinator of campaign group Justice 4 Grenfell, said survivors were "increasingly feeling a sense of injustice" in the 24 months since the fire.
Theresa May called the disaster "a local and a national tragedy with far-reaching consequences" which "we must not forget".